Thanks to SAInS (Skills Assessment Intelligence Service), a cloud-based employee training needs assessment and development tool, IT training provider Info Trek bagged the "Microsoft Asia Pacific 2013 Partner of the Year Award– Learning" earlier this month.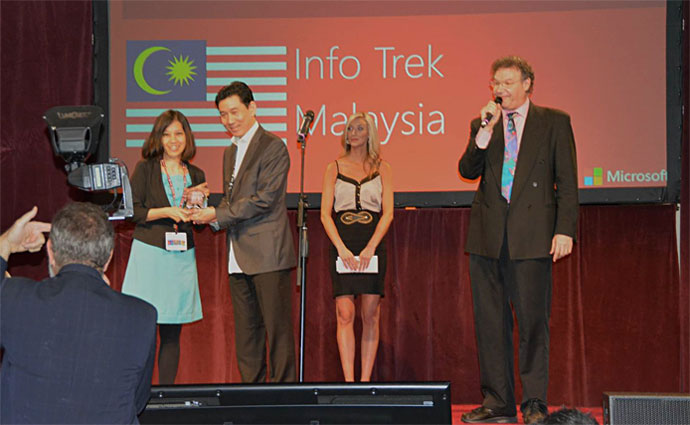 Sally Hew, CEO of Network Mileage, the organization behind SAInS, who was present at the Microsoft's Annual Worldwide Partner Conference ("WPC 2013") in Houston, Texas for the ceremony said that it was a first time achievement for SAInS. Through SAInS, Info Trek was recognized as the top partner in the Asia Pacific region for learning solutions. Sally also credits its partnership with Microsoft as a key contributor to its success. "We look forward to contributing to the growing IT landscape in Malaysia by ensuring successive generations of IT professionals have the necessary skills and training to drive the industry forward," said Sally. SAInS is looking forward to further collaborate with Info-Trek and other progressive business organizations worldwide.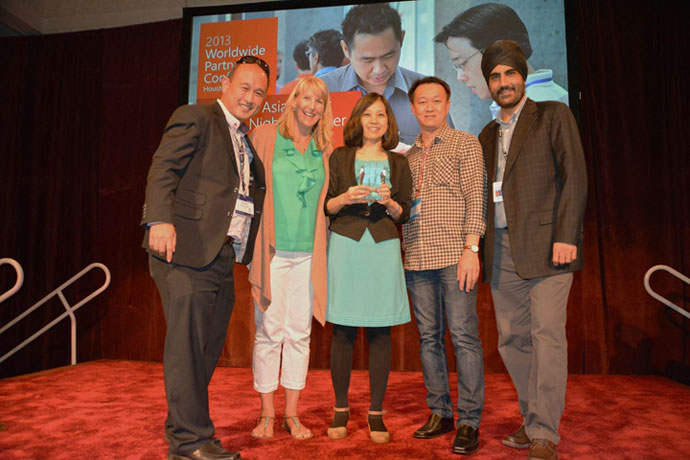 During this global event, three other Malaysian companies proudly received Partner of Year awards and APAC Regional Awards for delivering the most innovative solutions that directly addressed customer challenges in the region.

ISA Technologies was awarded as the global partner of the year for Start-Up Cloud – Emerging Markets; Fusionex was named the Partner of the Year for Malaysia as well as being awarded The Business Intelligence Partner of the Year; Finally, this year's Asia Pacific top regional partner for Management and Virtualization goes to Redynamics.

The award winners were selected from over 3,000 entries from more than 100 countries, based on their commitment to customers, the market impact of their solutions and exemplary use of Microsoft technologies.
| | |
| --- | --- |
| | SAInS provides solutions to organizations to keep track of employees training needs, certification needs, training records as well as to monitor employees' talent development and gap analysis. |

Microsoft boasts the largest partner ecosystem here in Malaysia, with over 5,000 partners nationwide, making up a significant portion of more than 28,000 partners in the Asia Pacific region. Collectively, Microsoft's partners in the region generate US$125 billion from solutions and services based on the Microsoft platform; contributing 46% of total ICT employment and 45% of tax revenues derived from the ICT industry. In fact, IDC (Partner Opportunity in the Microsoft Ecosystem, 2011, Gantz J. & Bibby, D.) estimates that for every RM1 of revenue made by Microsoft, its partners make RM8.70. The study, also predicts that revenues could hit more than RM2.54 trillion (US$800 billion, US$1=RM3.18) by 2015 with Microsoft's cloud efforts.

"Microsoft partners have the best business growth opportunities because of our long term commitment to their success. The 2013 Partner of the Year Award winners and finalists represent some of the best and brightest in Malaysia," said Carlos Lacerda, Managing Director of Microsoft Malaysia. "We are particularly pleased to note that our homegrown Malaysian partners have been successful even on the regional and global stage and we applaud each of our partners for demonstrating exceptional dedication in working to solve the most pressing technology challenges facing our mutual customers today. Congratulations to each award winner on this recognition!"

Citing from New IDC-Microsoft study
During WPC 2013, Microsoft also revealed the findings of a new IDC study it sponsored, which showed how partners with more than 50 percent of their revenue related to the cloud have been benefiting from higher gross profit, more new customers, increased revenue per employee and faster overall business growth.

The study underscored the transformation taking place in the business world as more organizations of all sizes move their technology infrastructures to the cloud. In fact, according to the findings, cloud-oriented partners, defined as those that generate more than 50 percent of their revenue from the cloud, grow at double the rate, accrue new customers more than two times faster and generate 30 percent more revenue per employee compared with non-cloud-oriented partners.

"Cloud alone hasn't caused these impressive numbers, though that is absolutely part of it; top-performing partners were visionaries that took on cloud technologies before their peers," said Darren Bibby, program vice president of Channels and Alliances Research, IDC. "We're at the point in the industry's overall cloud transition where partners that don't move some of their business to the cloud likely won't survive. And some partners that are getting ready to sell their business or retire may be OK with that. Most won't be."

IDC research also revealed customer buying preferences that highlight the importance of a comprehensive cloud vendor and the ability to offer various deployment options: 
63% of customers expect to have a single cloud service provider to meet their needs.
67% expect to purchase a wide variety of cloud services from a single vendor.
74% expect their cloud service provider to be able to move a cloud offering back on-premises if needed.
"IDC's data re-emphasizes how businesses and organizations prefer to buy end-to-end IT solutions from a single cloud vendor and want to work with a company they have an established relationship with.  With Office 365 now on a US$1 billion annual revenue run rate and more than 250,000 customers using Windows Azure, as thousands more are added every week, our partners are in a prime position to support this," said Lacerda. "This research validates our belief that the most successful partners are the ones that offer a hybrid approach to IT. Microsoft is the only vendor equipped to help partners offer their customers a suite of on-premises and cloud solutions in both public and private cloud environments. By offering a hybrid approach, it better addresses customer needs and, in turn, helps our partners enjoy even more profitable growth."

The full study and more details, such as a related infographic, can be found at http://aka.ms/IDCMicrosoftCloudInfo.

Like us on Facebook on https://www.facebook.com/sains2u

Press Release from Microsoft.