Microsoft brought to us the annual Microsoft Developers Conference 2014 on the 13 Sept which focused on the theme //Built for Malaysians by Malaysians! The conference provided open source and multi-platforms opportunities to Malaysians, collaborating with Microsoft, TM also introduced their new accelerator Innovation Exchange and what it can do for us.

The conference was held at TM Convention Centre and Microsoft had given us a booth to exhibit our services. We were excited to see developers leading in numbers of the crowd of 350, taking advantage of the exhibition to sign up with various programs and campaigns.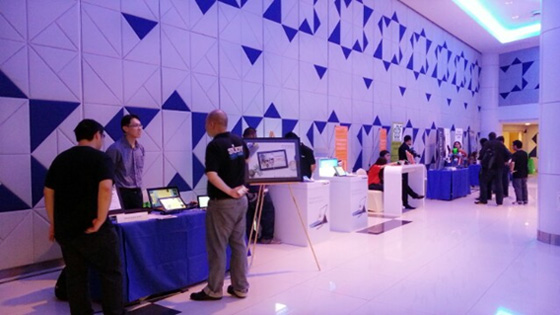 Attendees further upgrade their skills and take their ideas further during the day, when the conference later sectioned into 4 different tracks.

Attendees turned up are mostly developers and students, we have also start-ups, ISVs, partners and decision makers enjoying the event.

Later in the day, the conference opened up to different track sessions where participants chose the tracks they wish to further learn and develop new skills. The track sessions consisted of App track, Cloud track, Multi-platform track and Open Source track, and in the afternoon there were Big Data hands-on lab and Gaming related tracks.







Exhibitors also lined up at the exhibition hall showcasing their latest technologies and services.

Network Mileage together with Info Trek were also exhibitors assisting Microsoft to push Microsoft Virtual Academy (MVA), Azure Cloud sign ups and as well as our own services. Register as a MVA member to stand a chance to win a Microsoft jacket, and customers will receive our cloud tool (SAInS) Skill Assessment Intelligence Service, free for a year. Furthermore, we enrolled our partner Qwork to help to match jobs to students too after they had completed certain courses in MVA to develop themselves.

Network Mileage bagged a Microsoft Appreciation Award for being recognized as contributor to Microsoft Azure Ecosystem.


Sally Hew, CEO of Network Mileage, the organization behind our cloud tool SAInS, made it to the top of the TM tower, and there she was presented the Microsoft award on the helipad.